Bubs Disposal provides concrete washout and waste disposal services in Utah. After you are through with the container, we will pick it up and deliver the hardened concrete to a recycler, rather than a landfill after the wash water has evaporated. You can rest assured that Bubs Disposal has the knowledge and expertise to quickly and safely dispose of all your concrete waste materials.

Our team is dedicated to providing a safe environment for you and ensuring that all materials are properly disposed of according to local regulations. We strive to provide quality service with competitive pricing so you can get back to work without worrying about how your project's waste will be taken care of. Whether you're doing residential or commercial construction, we have the right solution for you.
What is a Concrete Washout?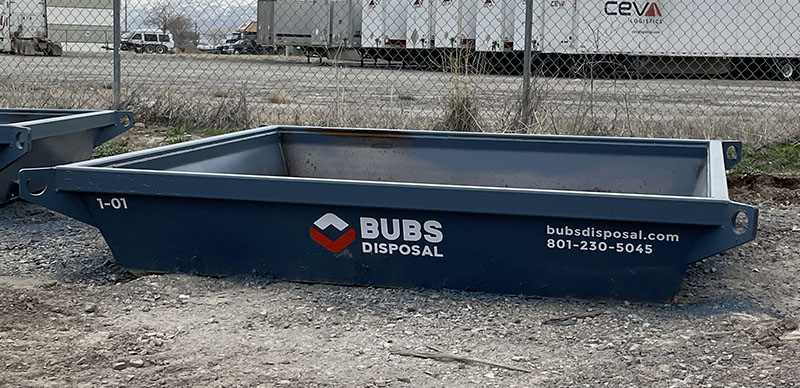 In large-scale construction sites, a concrete washout is necessary to ensure that all equipment involved in the production and placement of concrete has been adequately cleaned. This includes everything from mixing drums and hoppers to hand tools like wheelbarrows. Unfortunately, this process can cause detrimental environmental damage by producing wastewater with toxic components which run off into nearby ground or surface water sources.
That's where Bubs Disposal comes in. It's essential for every project site manager to be fully aware of EPA guidelines when it comes not only to performing but also containing these washes so as not to further pollute our ecosystems around us, and Bubs Disposal's concrete washout containers can help minimize pollution.
For those wishing to optimize their construction activities, Bubs Disposal offers the perfect solution. Our on-site washout services are designed for maximum efficiency and ease of use. Our concrete washout containers are the perfect solution for those looking to maintain a safe worksite.
Why are Concrete Washouts Important?
Construction sites often release washout water which contains highly toxic elements. This runoff can be dangerous to the surrounding environment. It is essential that proper disposal measures are taken when managing concrete washout waste. Our concrete washout containers are necessary to securely contain concrete wash water and solids.
If you have any questions about our concrete washout containers or any of the other services we offer, contact us today for more information and we'll make sure you have all of the knowledge you need to make an informed decision for you and your crew.